Palm Beach Gardens' Premier Florist
Flower Kingdom is proud to be your premier choice florist in Palm Beach Gardens, Florida. We are a local flower shop that prides itself on excellent customer service and the highest-quality floral arrangements possible.
Providing exceptional products and unique creations and going the extra mile for our clients is why Flower Kingdom remains one of the oldest continually running businesses in Palm Beach Gardens. Established in 1986, we understand we're in the business of emotions, and our goal is to create products as unique and powerful as the emotions they express. We strive for 100% customer satisfaction and stand behind our products and services.
Flower Kingdom is comprised of a talented team of floral experts, designers, and managers who have been working in the industry for decades and have an exceptional commitment to customer service. Hailing from different parts of the world, our team members bring their unique design abilities and cultural experiences to create a seamless fusion of extraordinary designs.
With a deep understanding of the role flowers play in our lives and how they bring serenity, joy, and positive energy to those around us, we source our flowers only from reputable farms, local and international. Flower Kingdom is the only florist in the Palm Beach Gardens area that sells "Rouge Bassier" roses, which are known for their durability, petal count, and shelf life. We also offer gift and gourmet items such as Godiva Chocolate, fine wines, everyday and luxury champagnes, brumates, balloons, plush animals, silk custom creations, keepsakes, and more.
Our dedication to operating with integrity, providing excellent customer service, and working with the highest quality products is why Flower Kingdom has won numerous accolades and awards, including Winner of the Best of Palm Beach County Florist award. We don't take it in stride but believe every day is a new learning opportunity to improve ourselves so we can serve our clients and community better. We support local causes and partner with numerous charities like Knights of Columbus, Place of Hope, Leukemia and Lymphoma Society, as well as with the City of Palm Beach Gardens on their annual events such as the Daddy Daughter Dance, Annual Memorial Day Parade, and many other fundraising and charitable events.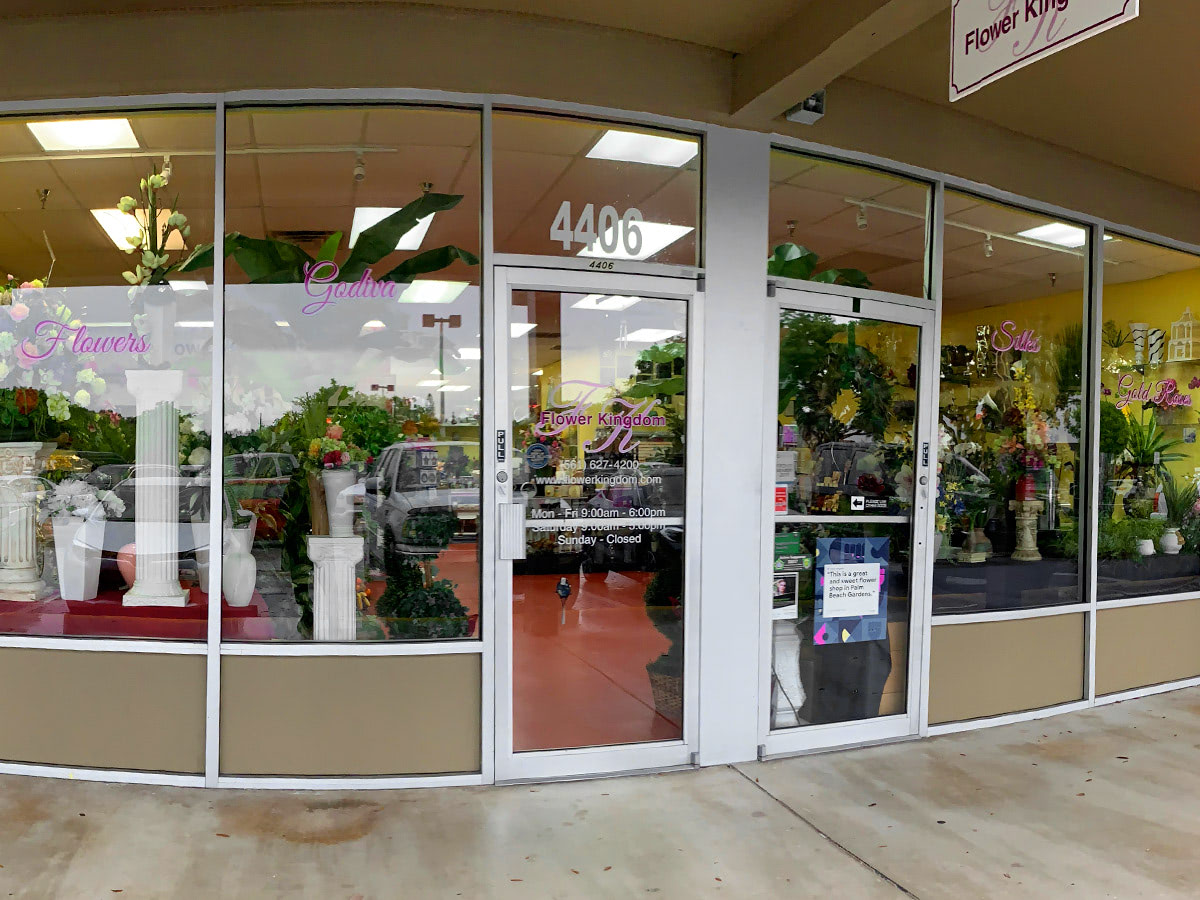 Business Hours
Mon - Fri: 9AM to 6PM
Saturday: 9AM to 5PM
Sunday: Closed
See Full Hours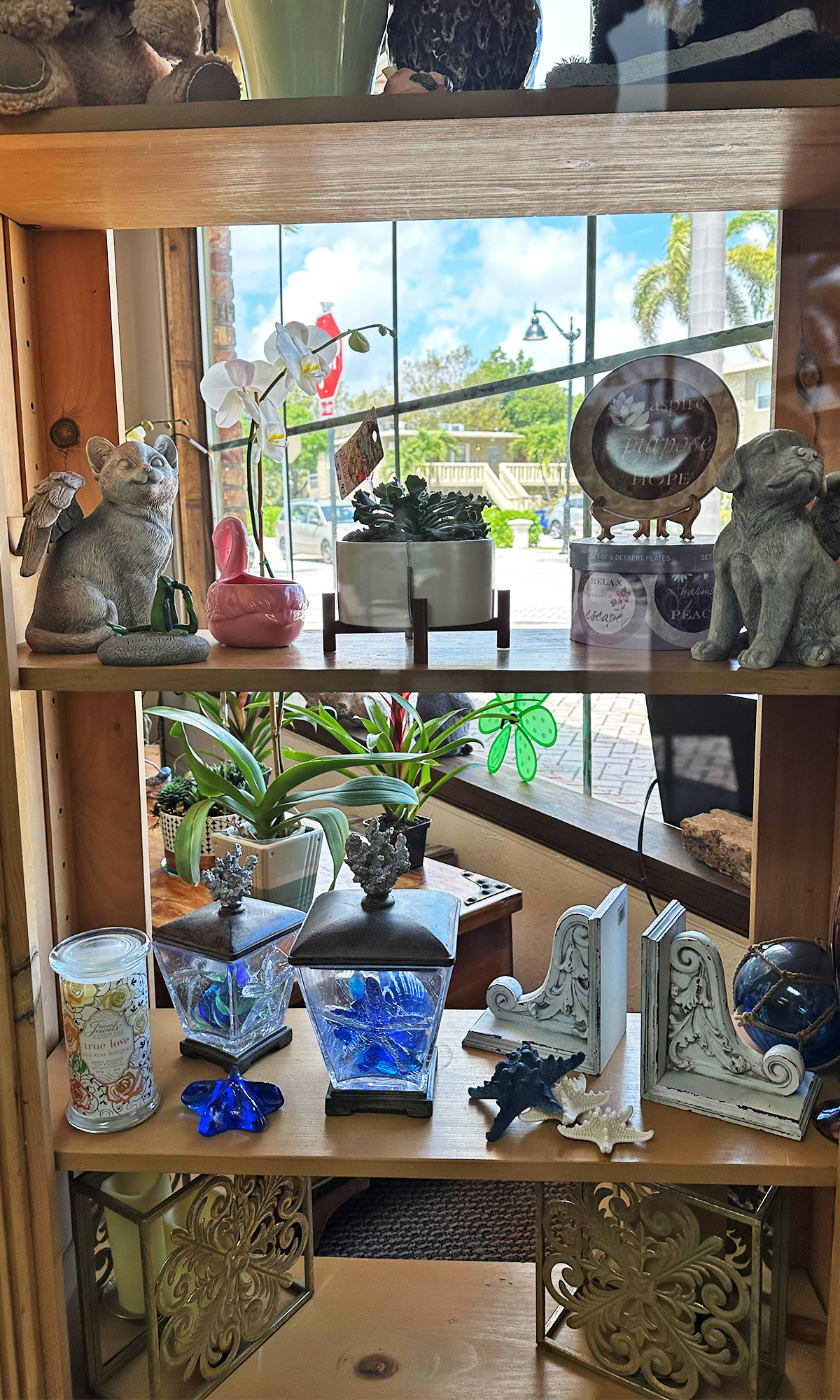 Flower Kingdom's Four Guiding Principles
Overall Dedication to Excellence - Flower Kingdom is proud to stand by our unwavering commitment to excellence, demonstrated by our uncompromising standards of quality and precision. With a team offering technical and data-backed excellence, you can bet that your flowers will have a strong vase life, and your delivery will always make it on time, thanks to Flower Kingdom's extraordinary planning skills.
Guided by Integrity & Passion - By following our hearts at the design table, the most beautiful floral bouquets come to life. Everything we do comes from the heart, and we will always do right by our clients. Whether designing and delivering arrangements or honoring a customer request, our decisions are rooted in integrity and passion.
In a Safe & Supportive Environment - Flower Kingdom prioritizes the safety and well-being of both employees and clientele, cultivating an environment of trust, transparency, and respect. While most companies claim to treat their employees like family, our team has become one. With the mindset that everyone is invested in the success of Flower Kingdom, we do everything we can to cultivate a safe, supportive, and nurturing environment.
With Unmatched Customer Care - Our customer-first mentality is ingrained in our ethos as we continuously strive to anticipate and exceed the needs and desires of every customer. Our bilingual team is always focused on client satisfaction and goes above and beyond to make everyday occasions feel unique and special events extraordinary.
When you shop with Flower Kingdom, you'll experience the exceptional commitment to quality, customer service, and creative designs we have provided for over 35 years. Browse our selection now to see for yourself.
Flower & Gift Services
We specialize in the following services:
Same Day Delivery
Nationwide Delivery
Contemporary & Traditional Arrangements
Seasonal Flowers & Arrangements
Anniversary / Romantic Arrangements
Sympathy Gifts
Silk Flower Arrangements
Mylar & Latex Balloons
Party & Event Decorations
Corporate Gifts
Home Decor
Weddings / Wedding Flowers
Sympathy and Funeral Flowers
Greeting Cards
European / Dish Gardens
Gift Baskets
Fruit Baskets
High-Style Floral Arrangements
Indoor & Outdoor Plants
Stuffed Animals
Prom & Dance Flowers
Hospital Flower Delivery
Funeral Home Delivery